San Francisco Cuisine Magazine
Moonraker is very happy to be featured in San Francisco Cuisine magazine, right along with Michael Mina, Bistro Jeanty and the French Laundry to name a few!
Zagat's 2013 Guide
Moonraker was pleased to be selected for the 2013 Zagat guide. See the ratings below and the listing will be up on Zagat.com shortly (and published in the physical Zagat guide).
Gentry Magazine (July 2012)
By the Sea – Jill Layman reports on one of the coast's most exciting new dining venues… (read more)

Easter Brunch in the San Francisco Bay Area
Examiner.com, 4/4/12
Moonraker Restaurant Pacifica, CA: Executive Chef Jason Yeafoli and the Moonraker team will launch their Champagne Sunday Brunch on Easter Sunday, April 8th, offering crab legs, peel and eat shrimp, chef carved roast beef and more! Moonraker, located within the Best Western Hotel Plus in Pacifica, features floor to ceiling windows directly overlooking the ocean and two rows of oversized stuffed booths perfect for enjoying a cocktail or glass of wine with friends and family. (read more)

SFist Drinks: The Moonraker Cocktail at Moonraker
SFist, 3/2/12
It sits on a lovely piece of coastal property, and to complement the food from executive chef Jason Yeafoli is a new cocktail list created by consultantVictoria D'Amato-Moran. Below, the signature concoction, which is one of several Victoria created to reflect the restaurant's history and seaside locale. (read more)
Good Taste: Seafood in Pacifica, Goat Milk Candy in Woodside
NBC Bay Area, 2/3/12
Stunning Rockaway Beach views pair nicely with iced platters of local and Pacific Northwest oysters and crab and hot mugs of truffled lobster cappuccino. Entrees also lean toward the sea, but the menu is also mindful of meat lovers. Sometimes the waves are dramatic enough that they leap over the rails outside, offering a thrill that's not easy to come by on the coast. (read more)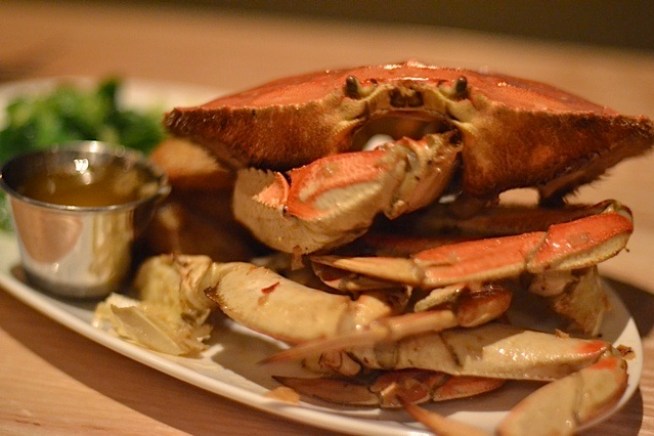 Wine, Aphrodisiacs and a View: Valentine's Day at the Moonraker
Pacifica Patch, 2/9/12
Looking for a local spot to take your Valentine? Look no further. The newly opened Moonraker in Rockaway Beach has a special menu prepared just for the romantic holiday and an unbeatable view, too.
And get this: Executive Chef Jason Yeafoli has filled the four-course tasting menu with aphrodisiacs for, uh, later that evening.  (read more)
Source: Pacifica Patch, Credit: Rebecca Pariser
Give me a Mori
Weekend Sherpa, 2/19/12
Want to show your Valentine date a whale of a good time this weekend? There's a spot for that. Winter's when the largest mammal on the planet—the gray whale—makes its very long migration from the chilly Arctic to balmy Baja California. (read more)
Picture Source: Weekend Sherpa

Northern California Getaway Ideas for Mom and Dad
Trekaroo, 2/8/12
Leave the children with grandma and treat your spouse to a romantic dinner or weekend getaway to celebrate Valentine's Day, Valentine's Weekend, or heck , any night this month will do if you can escape the drooling tribe of warriors that have invaded your house during this February month of love.
This Valentine's Day, Moonraker invites guests to reserve a romantic overstuffed leather booth to watch the sunset over the waves and enjoy a decadent four-course tasting menu filled with aphrodisiacs from Chef Yeafoli. The Steve Nelson Jazz Ensemble will play throughout the night. (read more)
Get Hip to Pacifica with our Ultimate Day-Trip Guide!
Refinery29, 1/16/12
If you're ready to class-up your Pacifica visit, put away the hiking boots and don some slammin' heels for swanky new spot Moonraker, located smack dab on Rockaway Beach. The view of rolling waves is mesmerizing, even at night when lights shine on the whitecaps. The menu is, naturally, seafood heavy, with a mouthwatering variety of oysters, clams, and crabs. Paired with a flute of Scharffenberger sparkling and a sunset, it's the perfect way to top off your day in Pacifica. (read more)
A Sneak Peak at Moonraker
12/9/11 – Pacifica Patch
Rockaway Beach's newest restaurant was greeted by dozens of Pacificans Thursday night. (Read more)

Credit: Camden Swita
Moonraker to Bring James Bond Swagger, Modern Seafood Fare to Pacifica
12/7/11 – Pacifica Patch
After a long hiatus from Rockaway Beach, the Moonraker, a seafood restaurant inspired by the 1979 James Bond film, is making its return.
It's setting up shop at the very same spot it began—the old Portofino space in the Best Western Lighthouse Hotel across Rockaway Beach Avenue from Nick's. Besides a spectacular floor-to-ceiling view of the Pacific Ocean and the Rockaway riprap, Moonraker will feature a modern seafood menu with a twist, wines and cocktails. (Read More)

Credit: Rebecca Pariser
Inside Moonraker, in Pacifica
12/9/11 – SF Eater
Finally a place to get seafood in Pacifica! We kid. It's actually the newest place on the block, or in this case, on the shore. Moonraker, located within the Best Western Lighthouse on Rockaway Beach Avenue has returned to its original location, the latest project from brothers Shawn and Gary McNamara and Executive Chef Jason Yeafoli offering… (read more)

Photos: Molly DeCoudreaux
Cocktail Menu: Moonraker in Pacifica, CA
12/18/11, Alcademics.com
New restaurant Moonraker in Pacifica at the Best Western Lighthouse takes the place of a restaurant of the same name open there for 25 years previously. It opened for dinner on December 13, 2011 (read more).
Moonraker: Updated and Open Again in Pacifica
12/14/11, Chow
The space, which operated as the Moonraker during the late 70's and 80's, was more recently called Portofino. It is in the Lighthouse hotel and has great views directly facing Rockaway Beach.
The new owners have done a nice job of updating the interior, while retaining the basic structure (read more)
Moonraker opens on the Pacifica waterfront
12/14/11 – Inside Scoop SF
Continuing with the busy week of openings, Moonraker opened last night in Pacifica. As noted last month, Moonraker was once a notable restaurant in Pacifica, before it closed about a decade ago. Now, it's been resurrected by some nearby restaurateurs: Gary McNamara, Shawn McNamara and Jason Yeafoli of Barolo. (Read more)
Source: Molly DeCoudreaux / MDP (Inside Scoop SF)
Moonraker Reopens in Pacifica
11/10/11, Grub Street San Francisco
On a picturesque piece of coast in Pacifica (pictured above), a pair of local restaurateurs and a former chef at Moonraker are reviving the shuttered restaurant as of early December. Executive chef Jason Yeafoli joins brothers Shawn and Gary McNamara on the project, which, yes indeed, took its name from the 1979 James Bond film (read more).
Moonraker to be reborn in Pacifica
11/9/11 – SF Gate: Inside Scoop
Once upon a time, Moonraker was one of Pacifica's most notable restaurants. Perched on the water, the 200-seat restaurant was an upscale seafood destination, but it closed about ten years ago, at which point Ristorante Portofino opened in the space, located in the Best Western Plus Lighthouse Hotel.
Earlier this year, Portofino closed and the space was purchased by Gary McNamara, Shawn McNamara and chef Jason Yeafoli of nearby Barolo. They've been doing a lot of work in the space, with help from designer Michael Brennan (read more)
Moonraker (Re)Opening in Pacifica
11/16/11, Table Hopper
It's not only the first James Bond movie I ever saw (back in 1979)—reopening on the coast this winter (after 25 years) will be~MOONRAKER~, with a view that overlooks the beach and surf in Pacifica (it's located in the Best Western Lighthouse on Rockaway Beach Avenue). The historic space has been completely redesigned by Michael Brennan, but the fab view through floor-to-ceiling windows remains. Chef Jason Yeafoli (The Lark Creek Inn, Moose's, Rose Pistola) will prepare seafood classics with a twist such as..(read more)
Full Moonraker – Bringing back the sundowner in Pacifica
via Rundown SF
Holiday hustle can make getting around San Francisco a hassle.
Leave the city to the tourists and head for the sunny winter shores of Pacifica for sundowner cocktails and a seafood dinner at Moonraker, opening for dinner tomorrow.
It's closer than you think — getting there takes less time (and far less aggravation) than it does to find weekend street parking in North Beach.
Cruise in for happy hour on a clear, cold evening. The first thing you'll notice after sliding past a spiderweb-like sculptural partition of woven rope is the panoramic ocean view. Floor-to-ceiling windows ensure there isn't a bad seat in the house (read more).
The reawakening of a seaside destination: The new Moonraker opens in Pacifica
12/13/11 – Mercury News
Thursday evening, Dec. 8, media and invited guests celebrated an early preview of the newest addition to Pacifica 's dining scene — Moonraker. (Official opening, Tuesday, December 13.) Located within the Best Western Plus Lighthouse Hotel on Rockaway Beach Avenue , the space is the location of the original Moonraker, an upscale seafood restaurant which some of its many long-time fans first became acquainted with, via a prom date (hand raised!) The old Moonraker closed approximately 10 years ago and Ristorante Portofino took over the site.
In early 2011, brothers Gary and Shawn McNamara, and executive chef Jason Yeafoli, the trio behind the award-winning Barolo Restaurant in Pedro Point, purchased the location and went to work on making their dream of a steak, seafood-centric and chop house (with a top-of-the line raw bar) a reality.
Moonraker 
San Mateo / Silicon Valley Convention and Visitors Bureau
The historic space holds one of the most breathtaking views in the Bay Area, with floor to ceiling windows overlooking the beach and the surf. Weeks of renovation have seen more than five tons of wooden beams removed and recycled for local building projects and a complete redesign of the space. Designer Michael Brennan, nationally recognized for his restaurant concepts in the Bay Area, was inspired by the 1979 James Bond film of the same name, as well as the close proximity of the ocean, creating a space that draws on retro accents but remains classic, modern and comfortable. (read more)